ARTICLE.
Adura Onashile's 'Girl', Luna Carmoon's 'Hoard' selected for BFI London Film Festival Works-in-Progress
Adura Onashile's iFeatures-backed Girl and Screen Star of Tomorrow 2022 Luna Carmoon's debut feature, Hoard, will be spotlighted in the third edition of the BFI London Film Festival (LFF) Works-in-Progress showcase.
The showcase presents nine new feature films and documentaries from UK-based filmmakers. The in-person event, taking place on October 8 as part of the festival's UK Talent Days focus, will screen extracts from each project, with an introduction from the film's producer, to an invited audience of international buyers and festival programmers, with clips available online from October 8-9 to a wider pool of industry professionals.
Scroll down for the full line-up
Glasgow-based Onashile's Girl is produced by Rosie Crerar and Ciara Barry, who were recently named as part of the line-up of Screen's inaugural Rising Stars Scotland talent showcase. The film was developed through iFeatures in partnership with BBC Film and the BFI and also supported by the BFI Film Fund, BBC Film and Screen Scotland. The film is a coming-of-age drama about an 11-year-old girl and her mother, who take solace in a gentle but isolated world of their own creation, and stars Déborah Lukumuena and Danny Sapani.
Carmoon's Hoard is produced by Loran Dunn (Screen Star of Tomorrow 2017), Helen Simmons (Screen Star of Tomorrow 2018) and Andy Starke, and stars Hayley Squires, Joseph Quinn (Screen Star of Tomorrow 2018) and Saura Lightfoot Leon. It is backed by the BFI and BBC Film, who also supported development, and follows a woman's life from her loving childhood with her mother, through to the grief of her young adulthood.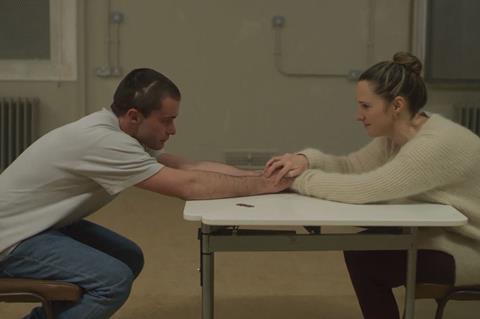 Actor Christian Cooke's feature debut Embers, which he co-wrote with Dave Florez, will also feature. It is produced by Mini Productions and is about a woman employed to help a psychiatric patient overcome his intimacy issues after 18 years of high-security incarceration. Cooke stars alongside Ruth Bradley.
Projects supported through the 2021 showcase include Pretty Red Dress, written and directed by Dionne Edwards, that will world premiere at LFF this year. Thomas Hardiman's Medusa Deluxe will also screen at this year's LFF, following its world premiere at Locarno. From 2020, titles include Malachi Smyth's The Score, Stacey Gregg's Here Before, Lee-Haven Jones's The Feast and Ewen Spencer's 8 Bar – The Evolution of Grime.
LFF runs from October 5-16.
BFI LFF Works-in-Progress 2022
Embers, dir-scr. Christian Cooke, scr. Dave Florez, prods. April Kelley, Sara Huxley, Arthur Landon, Marnie Paxton-Harris – feature
Girl, dir-scr. Adura Onashile, prods. Rosie Crerar, Ciara Barry – feature
Hoard, dir-scr. Luna Carmoon, prods. Loran Dunn, Helen Simmons, Andy Starke – feature
Kindling, dir-scr. Connor O'Hara, prods. Jamie Gamache; Mark Foligno – feature
Robin, dir-prod Orban Wallace, prod. Charlie Whitehead – documentary
Sandcastles, dir. Inma De Reyes, prods. Aimara Reques, Beth Earl, Ronny Merdinger – documentary
Scala Club Cinema, dirs. Jane Giles, Ali Catterall, prods Andy Starke, Alan Marke, Jim Reid – documentary
The Secret Army – The Film You Were Never Supposed To See, dir-prod. John O'Kane, prod. Darragh Macintyre – documentary
Silent Roar, dir-scr. Johnny Barrington, prod. Christopher Young – feature